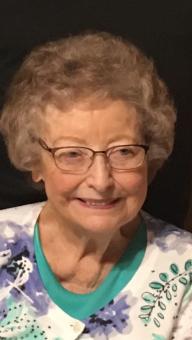 Sue Ann Landis, age 84, of Newark, passed away on Tuesday, February 20, 2018. She was born on February 13, 1934 to the late Charles and Edna (Downing) Meloy in Zanesville, OH.
Sue graduated from Newark High School in 1952 and retired from Holophane of Pataskala. In her free time, she enjoyed painting, gardening, and making crafts to share with her friends and family.
She is survived by her sons, Monte (Kelly) Landis and Mark (Kim) Landis; grandchildren, John Landis, Jennifer Landis, and Jessica Landis; special niece, Sherri (Kevin) Miller; and her loving dog, Maggie.
In addition to her parents, Sue is preceded in death by her sister, Shirley (David) Leith.
A funeral service for Sue will be held at 4pm on Sunday, February 25, 2018 at Brucker Kishler Funeral Home, 985 N. 21st Street, Newark, OH 43055. Family will greet friends for two hours prior to the service at the funeral home. Burial will be private.
Contributions in Sue's memory can be made to the Licking County Aging Program, 1058 E Main St, Newark, OH 43055.
To sign an online guestbook, please visit www.brucker-kishlerfuneralhome.com.