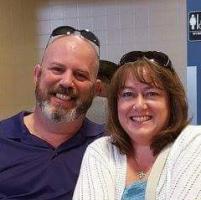 Tricia Lynne Mason, 46, of Heath, died Saturday, October 14, 2017 at Licking Memorial Hospital surrounded by her family, She was born April 7, 1971 in Newark, the daughter of Bob and Gwen (Swank) Taylor.
Tricia was an animal lover and rescued Siberian Huskies. She enjoyed crafting, reading, going on cruises, Harley Davidson motorcycle rides, and shooting guns, but what she enjoyed most was spending time with her family and friends.
She is survived by her husband of 27 years, Matt Mason; two sons, Marc (Casie) Mason of Heath and Joshua (Emily Parsons) Wedor of Panama City Beach, FL; parents, Bob and Gwen Taylor; brother, Jim (Shauna) Taylor of Johnstown; several aunts, uncles, nieces, nephews and cousins; and lifelong friend, Heather Helle.
The family would like to extend a special thank you to all of the special friends and neighbors who have reached out to help Tricia and her family the past few months.
The family will receive friends Thursday from 4-8 PM and Friday from 5-7 PM the Brucker and Kishler Funeral Home 985 N. 21st Street, Newark where the funeral service will be Friday at 7:00 PM with Pastor Jonathon Mitchell officiating.
In memory of Tricia, the family requests that a donation be made to the Department of Gynecologic Oncology at the James Cancer Hospital and Solove Research Institute, 660 Ackerman Road, P.O. Box 183112, Columbus, OH 43218-3112. Gifts in Tricia's memory will benefit the cancer research program at Ohio State.
To sign an online guestbook, please visit www.brucker-kishlerfuneralhome.com