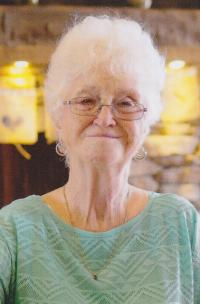 Mary Vesta Hogue
A funeral service for Mary Vesta Hogue, 79 of Newark, will be held at 10:00 a.m. Friday at Brucker & Kishler Funeral Home, with Pastor Brian Grove officiating. Burial will follow in Cedar Hill Cemetery. Family will receive friends from 5 to 8 p.m. Thursday at the funeral home, 985 N. 21st St. Newark.
Mary, a homemaker, passed away March 31, 2017, at Grand Strand Medical Center in Myrtle Beach, S.C. She was born February 28, 1938, in Perry County, Ohio, to the late Maurice and Doris Mae (Peterman) Freas. She was a life-long member of First Christian Union Church, and a member of the Red Hat Ladies Group. She loved gardening, reading, fishing, traveling, old T.V. shows, gospel hymns, and her greatest love was spending time with her grandchildren.
She is survived by her son, Robert Christopher (Karen Wheeler) Hogue, of Newark; daughter, Julie Annette (Russell) Ulery, of Bladensburg; brother, Stephen (Marilyn) Freas, of Newark; grandchildren, Alexander Ulery, Emilie (Connor) Sawicki, Nathan Ulery; Sydney Ulery, and Zachary Leland Hogue; brother-in-law's, Keith (Darlene) Hogue and Danny (Lea) Hogue both of Newark; sister-in-law's, Diane Johnson of Lancaster and Margaret Hogue of Newark, and several nieces and nephews.
In addition to her parents, she was preceded in death by her husband, Robert L. Hogue, and brothers, Bernard A., Donald S., and Harold A. Freas.


To sign an online guest book, please visit www.brucker-kishlerfuneralhome.com.