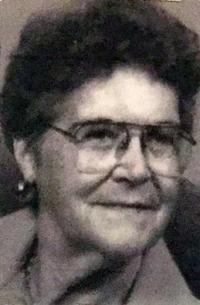 A memorial service will be held for Elizabeth "Penny" Van Horn 10am on Tuesday, April 11, 2017 at First United Methodist Church, 88 North Fifth Street, Newark, OH 43055. Family will greet friends following the service.
Elizabeth died peacefully at SharonBrooke in Newark, OH on Sunday, April 2, 2017. She was born on May 8, 1924 in Dayton, OH to the late Irving and Thelma (Moore) Van Horn. Elizabeth was reared in Montgomery County, OH.
In 1942, Elizabeth graduated from Stivers High School in Dayton, OH. She holds a Bachelor's Degree from Miami University in Oxford, OH, a Master of Science Degree from Wellesley College, and a Ph. D. from Ohio State University.
Elizabeth's teaching carrier began in Winnetka, IL at New Trier Township High School. After teaching for a total of 36 years, with 30 years at Denison University, she retired in 1983.
Serving as Denison's first Women's Athletic Director from 1972 to 1983, Elizabeth started and coached women's intercollegiate basketball, bowling, and tennis teams during the 1950's, 1960's, and 1970's. She also coached the Denison University Women's Swim Team from 1971 to 1974. During her stint as tennis coach, Elizabeth's teams won several state championships and earned national rankings in the top 10. In 1972, she coached Denison Hall of Famer, Steffie Wright to the state championship. Elizabeth held the position of Professor of Physical Education during all of her years at Denison. She also established Committee W (status of women) of Denison's American Association of University Professors. She was inducted into the Denison University Hall of Fame in 1999.
She was a member of the National Honor Society for Women in Education, the Cradle of Coaches at Miami University, the Ohio College Association, the Newark Chapter of Business Professional Women, and the First United Methodist Church of Newark.
In retirement, Elizabeth spend time living in Florida and Ohio. While in Florida, she served the Clearwater Morton Plant Hospital as a volunteer chaplain. One thing that was unusual about Elizabeth, is that she was never without a "project." The variety of these seemed endless, though watercolor painting, traveling, and reading were significant pleasures.
In addition to her parents, Elizabeth is preceded in death by her brother, Kenneth Irvin Van Horn.
Survivors include a special friend, Marjorie K. Andrews, formerly of Newark, OH, Maderia Beach, FL, and presently Longwood, FL. She is also survived by a sister, Dorothy Jean Meyer, Osage City, KS; a brother, Edwin Martin Van Horn, Topeka, KS; five nieces, and three nephews.
To sign an online guestbook, please visit www.brucker-kishlerfuneralhome.com.