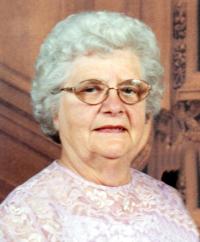 A funeral service celebrating the life of Alice W. Saltzman will be held at Holy Trinity Lutheran Church, 592 West Main Street, in Newark, at 11am, on Saturday, April 15, 2017. Reverend Deb Dingus will officiate. Family and friends may call from 10am, until the 11am, service time on Saturday, at the church. A luncheon will be held following the service. Inurnment at Newark Memorial Gardens will take place at a later date.
Mrs. Saltzman, age 87, a loving and devoted wife, mother, grandmother and friend, passed away Wednesday, at Kobacker House Hospice, in Columbus. She was born September 21, 1929, in Pittsburgh, Pennsylvania, a daughter of the late Edwin and Jennie Wilson. Her insurance underwriting career spanned three decades with The Ohio State Grange Mutual Insurance Company. She was a member of Holy Trinity Lutheran Church for 50 years.
Surviving are her daughter, Judy (Joe) Kenny of Hilliard, with whom she made her home in recent years; her beloved grandchildren, who were the light of her life, Jarrett, Jordan and Jeremy Kenny; several nieces and nephews; her brother-in-law Donald Saltzman and her special dear friends, who were such an important part of her life.
In addition to her parents, she was preceded in death by her husband Robert E. Saltzman in 2010; her son Gary R. Saltzman in 2011; an infant daughter Sandra Lynn, in 1958 and brother-in-law Ralph Saltzman and his wife Rita.
Memorial contributions may be made to Kobacker House Hospice.
To sign an online guestbook, please visit www.brucker-kishlerfuneralhome.com.