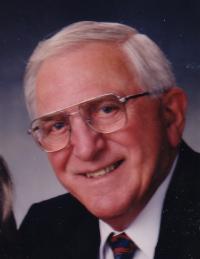 A funeral service for Robert Revere Smith will be held at 11:30am on Monday, April 24, 2017 at First Baptist Church, 1000 Granville Road, Newark, OH. Burial will follow at Cedar Hill Cemetery. Family will greet friends on Sunday, April 23, 2017 at Brucker Kishler Funeral Home, 985 N. 21st Street, Newark, OH 43055 from 2-4pm and one hour prior to the service at the church.
Bob, age 91, of Newark, passed away on Thursday, April 20, 2017 at the Selma Markowitz Center. He was born on November 18, 1925 to the late Pearl and Thelma (Ferren) Smith in Byesville, OH.
Bob proudly served his country as a member of the Navy during WWII. He was an active member of First Baptist Church and a longtime member of the Elks, where he was a Past Exulted Ruler.
Bob is survived by his loving wife of 71 years, Irene (Foster) Smith. He also leaves behind his daughter, Cathy (Jim) Cartner; grandchildren, Brady Cartner, Jennifer Felumlee, Mavis (Zeb) Mabry, and Marcy Smith; numerous nieces and nephews; and daughter-in-law, Pat Smith.
In addition to his parents, Bob is preceded in death by his son, Gary Smith and brother, Ed Smith.
Memorial contributions can be made to either Hospice of Central Ohio, PO BOX 430, Newark, OH 43058 or to First Baptist Church, 1000 Granville St. Newark, OH 43055.
To sign an online guestbook, please visit www.brucker-kishlerfuneralhome.com.