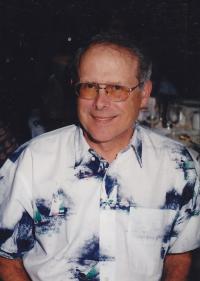 A service to remember the life of Charles D. Lindrooth Jr. will be held 3:00 P.M. Saturday, May 6, 2017 at Kingdom Hall of Jehovah's Witnesses, 2740 Newark-Granville Road, Granville, Ohio.
Mr. Lindrooth, age 81, passed away on Tuesday, May 2, 2017 at Riverside Methodist Hospital, Columbus, Ohio. He was born October 6, 1935 in Columbus, Ohio to his parents Charles D. and Margaret (Danner) Lindrooth Sr. He married Linda Claffey on May 13, 1960. He earned his B.S. Degree in Engineering from The Ohio State University. During his career he was a consulting engineer for Fox Engineering, Lancaster, OH, the former Western Electric Company, Columbus, OH and Rockwell Int'l, Newark. He was a Ham Radio Operator "K8YVK" and was very active in the ministry of Jehovah's Witnesses. Charles enjoyed boating, horses, playing the banjo and listening to Blue Grass music. Together with his wife, they traveled the world. Their fondest memories where times spent in Alaska, Hawaii and Antarctica. Other wonderful memories were made spending summers at Portage Lake, Onekama, MI.
Charles is survived by his loving wife of 57 years, Linda Lindrooth; adult children Michele (Tom) Warman of Manistee, MI and Marshall (Wendy) Lindrooth of Ravenna, OH; grandchildren Jesse Warman, Chelsee Wieland, Collin Lindrooth and Tiffany Likens and two great grandchildren Declan Warman and Adalynn Warman. Charles was preceded in death by his parents.
Online messages to the family may be sent via www.brucker-kishlerfuneralhome.com.