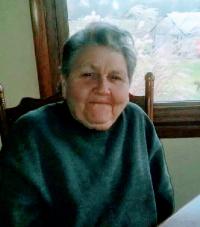 Patricia R. Bruce
A memorial service for Patricia R. Bruce, 76, of Newark, will be held at 7:00 p.m. on Wednesday May 17, 2017, at Brucker and Kishler Funeral Home, with Pastor John Schouten officiating. Family will receive friends from 6 to 7 p.m. on Wednesday, one hour prior to the service at the funeral home, 985 N. 21st St. Newark.
Patricia passed away May 5, 2017, at The Ohio State University Wexner Medical Center. She was born June 3, 1940, in Chadron, Nebraska, to the late Theodore and Rose (Skogland) Roberts.
She is survived by her children, Teresa (Jim) Hoffer of Thornville, Brenda (Ron) Ryan of Columbus, and Chuck Bruce of Newark; grandchildren, Anthony (Kim) Grace of Newark, Aaron (Bri Tittle) Grace of Newark, and Meghan (Evan Shaw) Quick of Cincinnati; great-grandchildren, Kayla Williams, Alizia Grace, Austin Grace, Kellan Grace, and Kollin Grace all of Newark, and siblings, Mary (Loice) Bartlett, Deloris (Ward) Millar, Chuck (Kay) Roberts, and Brian Roberts.
In addition to her parents, she was preceded in death by her brothers, Curtis Roberts and his wife Virginia, Douglas Roberts, Chester Roberts, and Steven Roberts, and grandson, Justin Isaac Grace.
To sign an online guest book, please visit www.brucker-kishlerfuneralhome.com.