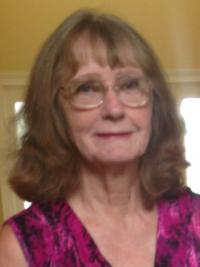 Carol Charlene Wells, age 76, of Newark, passed away on May 11, 2017 at Price Road Rehabilitation Center. She was born on September 30, 1940 in Rushville, OH to the late William and Gertrude (Porter) Brown.
She was a 1958 graduate of Hebron High School and retired from Lakewood School District and Meijer's.
In her free time, Carol enjoyed dancing to the "oldies", bowling, knitting and crocheting.
She is survived by her children, James (Tina) Wells, Janet (Cully Ridenbaugh) Wells of Newark, and David (Dawn) Wells of Rossford, OH; grandchildren, Tyler, Nick, Ashlynn, Andrea, Chris, Danielle, and Chelsea; 4 great grandchildren; siblings, Joyce Pasco and Dick (Anita) Brown; and her special friend, Tony Tomasina.
A special thank you to the nurses and aids at Price Road Rehabilitation Center and Greystone Hospice for the love and care given to our Mom.
Family will have a graveside service at a later date.