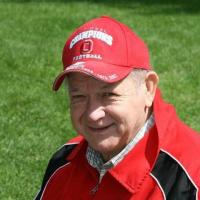 A Celebration of Life Funeral Service for Gerald I. "Jerry" Clynch will be held at 12:30pm, on Tuesday, May 16, 2017, at the Brucker-Kishler Funeral Home in Newark. Pastor Wally McLaughlin will officiate. Burial will follow in Newark Memorial Gardens, where the Licking County Veterans Alliance will conduct Military Funeral Honors. Family and friends may call from 11:30am-12:30pm, prior to the service at the funeral home, 985 N. 21st Street.
Jerry, age 76, passed away on Friday, May 12, 2017, at the Selma Markowitz Center. He was born December 30, 1940, in Cresco, Iowa, a son of the late Harold and Florence (Shepperd) Clynch. He was a graduate of Upper Iowa University, with a Bachelor's Degree in Business Administration. His career with the U.S. Air Force spanned 24 years and he went on to retire from Boeing in Newark. Jerry was the youngest Chief Master Sergeant in the USAF at the time he earned that rank. He was a member of the American Legion and an avid OSU football fan.
Surviving are his wife of 52 years, Mavis (Aldred) Clynch, whom he married August 29, 1964, in England; his children, Steven (Karin) Clynch, Eileen (David) Hanson, David Clynch, Dianna (Patrick) Palmer; grandchildren, Kenneth (Tracie) Clynch, Ryan Hanson, Aaron Hanson, Jessica Termini, Emily Hanson, Isabella Palmer; great-grandchildren, Bailey Francis, Bradlee Hanson, Atticus Termini and three sisters, Anne Marie Clynch, Dorothy Clynch, Patti Clynch. He also leaves behind many friends and relatives all over the world.
In addition to his parents, he was preceded in death by a sister, Glady Nelson.
Memorial contributions may be made to Hospice of Central Ohio, PO Box 430, Newark, Ohio 43058.