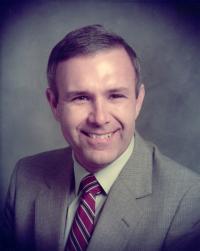 A funeral service for Dale Eugene Johnson will be held at 1pm, on Saturday, May 20, 2017, at the Brucker-Kishler Funeral Home. Pastor Jeff Smith will officiate. Burial will follow in the Hanover Cemetery, where the Licking County Veterans Alliance will present Military Funeral Honors.
Family and friends may call on Friday, from 4pm-8pm, at the funeral home, 985 N. 21st Street.
Dale, age 71, of Vermilion, passed away Tuesday, May 16, 2017, in Lorain, Ohio. He was born June 3, 1945, in Newark, a son of the late Virgil Eugene Johnson and Eva (Sudduth) Johnson, who survives. A 1963 graduate of Newark High School, Dale graduated from The Ohio State University in 1968, with a Bachelor's Degree in Business. From 1968-70, he served in the US Air Force. For many years he worked in Ohio and Indiana in marketing and advertising for the banking field. In 1995, he and his wife Carol moved to the Cleveland area where he owned and operated a marketing company. He had been active in Rotary and was an avid Ohio State fan, especially football. He also was interested in photography, collected antique cameras and enjoyed model trains.
In addition to his mother, he is survived by his wife, Carol (Hess) Johnson, whom he married September 16, 1967; his son Kevin (Anna) Johnson; his grandson Anthony Eugene Johnson; brother Wayne (Becky) Johnson and his sister Dianna Johnson; aunt Jean Carpenter; niece, Juliet (Charley) DePriest and brother-in-law Thomas (Ruth) Hess and sister-in-law Catherine (Charles) Rhoads.
Memorial contributions may be made to the Licking County Veterans Alliance, PO Box 854, Newark, Ohio 43058.
To sign an online guestbook, please visit www.brucker-kishlerfuneralhome.com.