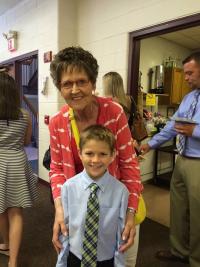 A service to honor the life of Rosemary Parrish will be held at 10am Saturday, May 20th, at Grace Pointe Community Church 892 Columbus Road E. Utica, Ohio. Pastors Brad Kittle and Charles Mason will lead the services together. A private interment will follow at a later date.
Rosemary Evelyn (Kerns) Parrish passed away on Tuesday, May 16th after a fierce battle with Grade IV Glioblastoma.
Rosemary was born on March 30, 1953 to Gilbert and Delores Kerns. She was a lifelong resident of Newark, with the South Side truly being "home".
Rosemary retired from General Electric in 2007 with more than twenty years of service at the Newark Quartz Plant. And while GE paid her bills, her true vocation was as a servant of the Lord.
Rosemary began her relationship with God in 1978. In the nearly 40 years of service to her Christian community, she served as a Youth Minister, a Bible Study teacher, a Women's Ministries leader, a mentor for incarcerated Men and Women at the Licking County Justice Center, a Counselor, and as Krackers the Clown in Clown Ministry. Of all of the ministerial roles that she held, she was most endeared to the Elim Coffee House hosted by First Trinity Assemblies of God during the early to mid-nineties.
Rosemary's greatest joy came from the different people she was able to meet serving in these various roles. She would often talk about how great a privilege it was to be present for people who felt alone. She didn't just plant seeds of friendship, she cultivated relationships with everyone that she met.
In her free time, Rosemary enjoyed floating along in her pool, driving around town in her convertible, eating frozen custard at Whit's and spending time with her Grandchildren. She spent many hours watching school plays, listening to choir concerts, taking in soccer games, and spectating countless innings of softball. She was a constant supporter in both successes and failures. Thursday's were "Grammy Days" for her two youngest Grandsons and they would frequently visit The Works where she was always amazed by her "little engineers".
Rosemary is survived by her daughters, Melissa Parrish Adams and Amber (Douglas) McCracken; Grandchildren, Moriah, Cameron, Kiele, Emmilee, Owen, and Collin; Great Granddaughter, Skyler; brothers, Gilbert (Jim) Kerns of Mt. Gilead, Dennis (Pam) Kerns of Newark; sisters, Kathleen (David) Bigler of Alexandria, Dee O'Neill of McClenney, Florida; many nieces and nephews; and dear friends, Denise Adkins, Joy Laughman, Sheila Sheppard, and Patty Negele.
In addition to her parents, She was preceded in death by her sisters Ann Kerns and Linda Reyes; grandson, Zachary D. Theodore Gillespie; dear friend, Joyce Lennon; and Clementine, her Great Pyrenees, who was her loyal and devoted companion for 14 years.
In lieu of flowers, the family asks for contributions to The Works: Ohio Center for History, Art & Technology, 55 South 1st Street, Newark, Ohio, 43055 or Samaritan's Purse; The Greatest Journey, POB 3000, Boone, North Carolina, 28607.
To sign an online guest book, please visit www.brucker-kishlerfuneralhome.com.