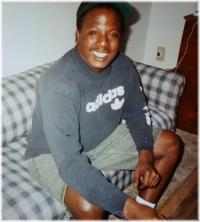 James Lamarr Evans, 50, of Newark, passed away Friday, July 7, 2017, at Licking Memorial Hospital. He was born November 11, 1966, in Newark, a son of the late Oscar and Paulette (Miller) Evans. Over the years, he had worked at Hope Timber and Olive Garden.
Left to cherish his memory are his daughter Jada Evans; son Darian Young; brothers and sisters, Fatina Evans, Oscar Evans, Ashford Evans and Michelle Brown; his biological father James Tunstill and a host of aunts, uncles, nieces, nephews and friends. A son, Donovan Evans Gilland preceded him in death.
A Memorial Service will be held at 11am, on Wednesday, July 12, 2017, at the Brucker-Kishler Funeral Home, 985 N. 21st Street, in Newark.