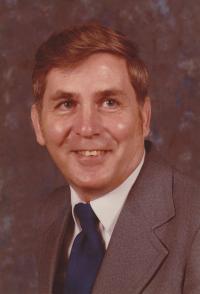 Jimmy B. Spears
A funeral service for Jimmy B. Spears, 83, of Heath, will be held at 1:00 p.m. Thursday, at Brucker and Kishler Funeral Home, with Pastor Wally McLaughlin officiating. Burial will follow in Newark Memorial Gardens, where military honors will be conducted by the Licking County Veterans. Family will receive friends from 6 to 8 p.m. Wednesday at the funeral home, 985 N. 21st St. Newark.
Jimmy passed away July 22, 2017, at Hocking Valley Community Hospital. He was born March 1, 1934, in Greasy Creek, KY, to the late Adam and Maudie (Gilispie) Spears.
Jimmy was a graduate of Virgie High School in KY where he was salutatorian and attended Pikeville College. He was an Air Force Veteran during the Korean Conflict. He was a school teacher in KY and WV for a year in a half and then was called to the Newark Air Force Base where he retired. He was a member of First Baptist Church of Heath, where he served as a Sunday School Teacher, RA Director, Trustee, and Usher.
He is survived by his wife, Barbara J. (Lusk) Spears; children, Shawn (Deborah) Spears of Newark and Keith (Cindy) Spears of Heath; grandchildren, Heather Sabo of Newark, Andrea (Chance) Beckman of Newark, Kyle (Allison) Spears of Dublin, Alicia (fiancé, C.J. Cook) Spears of Heath, Nicole (Michael) Gordon of Heath, and Sara Spurgeon of NM; great-grandchildren, Kadyn Beckman, Colin Beckman and Aubree Sabo; brothers, Don (Ida) Spears of Elyria and Jack Spears of Akron; sisters, Lois (Don) Damron of Akron and Patricia Grimmett of WV, and several nieces and nephews.
In addition to his parents, he was preceded in death by five sisters and three brothers.
In lieu of flowers, contributions may be made to Hospice of Central Ohio, P.O. Box 430, Newark, Ohio 43058-0430.
To sign an online guest book, please visit www.brucker-kishlerfuneralhome.com.