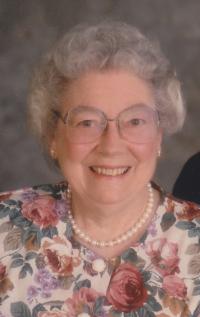 Dorothy Deck Swartz, 94, of Newark, Ohio died peacefully in her sleep on July 30, 2017 at Flint Ridge Nursing and Rehabilitation Center. Born February 14, 1923 in Newark, she is predeceased by her parents, Earl C. and Bernice Walcott Deck, brother, James E. Deck of Martin, Tennessee, and her late husband of 70 years, Murrel "Lefty" Swartz.
Dorothy graduated from Newark High School in 1941 and attended the Newark College of Commerce. She began her professional career working at the Newark Telephone Company. Later she was a small business owner working from home, raising her family, and supporting the active civic life of her husband. She was a member of First United Methodist Church her entire life where she volunteered in various capacities – teaching in the cradle roll class, delivering flowers to shut-ins, preparing communion, and founding a prayer shawl ministry. Hospice was also an important party of Dorothy's life. She was one of nine volunteers who established hospice care in Licking County in the early 1980's. She volunteered with Hospice of Central Ohio for 27 years, receiving the Kathleen M. Brown Leadership Award, and was last active as a "Tuesday Lady."
In her free time, Dorothy was a talented knitter creating hundreds of afghans, sweaters, and mittens for her family and friends as well as prayer shawls, sweaters, and preemie hats and booties for various church ministries. Living in the same neighborhood on Woodlawn Avenue for 60 years, Dorothy was considered family by many neighbors and their children. When she became confined to her home, Dorothy was befriended by several people who also became important friends. Dorothy's proudest accomplishment was her family. She formed a unique bond with each child, grandchild, and great grandchild by listening, supporting, and making each one feel special. She was a cherished "Grammy."
Survivors include son Jeffrey (Betty) Swartz of Newark; daughters Julia (Tim) Loughman of Newark and Elaine (Marc) Ayle of Westerville; six grandchildren, Trixie (Eric) Hubbell, Melanie (Adam) Voris, Janelle (Brian) Gant, Jonathan Loughman, Tanner Ayle, Kiley Ayle; nine great grandchildren; nieces and nephews.
We wish to express our heartfelt thanks to the kind caregivers at on the Rehab Unit at Flint Ridge Nursing and Rehabilitation Center and to Generations Hospice for their compassionate care.
The family will receive friends from 5pm to 8pm on Wednesday, August 2, 2017 at Brucker and Kishler Funeral Home, 985 N. 21st St. Newark, Ohio 43055. Funeral services will be held at 10am at the funeral home with the Rev. Richard Clark officiating. Burial will follow at Newark Memorial Gardens. In lieu of flowers, memorial contributions may be made to Hospice of Central Ohio, PO Box 430, Newark, OH 43058 or First United Methodist Church, PO Box 729, Newark, Ohio 43058. To sign an online guest book, please visit www.brucker-kishlerfuneralhome.com.