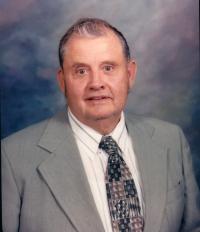 A Celebration of Life service for Lawrence R. "Larry" Kaufman will be held at 10am, on Saturday, August 5, 2017, at the Heath Church of Christ, 1331 Chapel Way in Heath. Dave Mason will officiate. Burial will follow in Wilson Cemetery, where the Licking County Veterans Alliance will present Military Funeral Honors.
Family and friends may call from 2-4pm and 6-8pm, on Friday, at the Brucker-Kishler Funeral Home, 985 N. 21st Street in Newark.
Larry, age 84, of Newark, went home to be with his Lord and Savior, Monday, July 31, 2017, at the Selma Markowitz Hospice Center in Newark, surrounded by his family. He was born November 21, 1932, in Buffalo, New York. In 1953, he entered the US Army and served overseas during the Korean War. He retired after 20 years' service at Clarence Materials. A man of faith and strong Christian belief, he was a member of the Heath Church of Christ. He enjoyed woodworking, gardening and was a fan of John Deere tractors.
On March 29, 1958, he married Rose F. (Pfennig) Kaufman. Surviving in addition to his wife are his daughters, Sandy (Tom) Spence of Newark, Sharon (D.J.) Miller of Ypsilanti, Michigan; his grandchildren, Samuel (Chelsea) Spence of Lakeville, Vivian Gunberg of Ypsilanti, Laura Spence of Seoul, S. Korea, Christopher Gunberg of Ypsilanti; his brother Mervin (Violet) Kaufman of Sun City, Arizona; sisters Janice Benton of Texas, Lily (Anthony) Zendano of Tonawanda, New York and many nieces and nephews. He was preceded in death by an infant daughter Carol Ann Kaufman; his brothers Lester and Jesse Jr. and his sister Nellie.
Memorial contributions may be made to the Heath Church of Christ, 1331 Chapel Way, Heath, Ohio 43056.
To sign an online guest book, please visit www.brucker-kishlerfuneralhome.com.