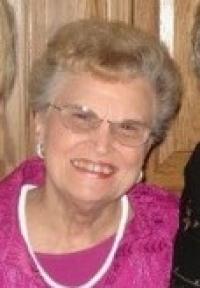 A funeral service for Betty Marie Embrey will be held at 11am on Thursday, August 10, 2017 at Brucker Kishler Funeral Home, 985 N. 21st Street, Newark, OH 43055 with Pastor Wally McLaughlin officiating. Burial will follow at Newark Memorial Gardens. Family will greet friends from 2-4pm and 6-8 pm on Wednesday, August 9, 2017 at the funeral home.
Betty, age 87, of Newark, passed away on Sunday, August 6, 2017. She was born on October 13, 1929 to the late Levi and Helen (Willey) Stebelton in Newark, OH.
Betty was a member of the American Legion Post 95 and a VFW Post 1060. In her free time, she enjoyed reading and watching OSU football. Mostly, Betty loved spending time with her family.
Betty is survived by her daughter, Lou (Jim) Meckley; granddaughters, Kendra (Brad) Haire and Kelsey (Patrick) Kunz; and great grandchildren, Madilyn, Nash, Mackenzie, Khloe and Karley.
In addition to her parents, Betty is preceded in death by her beloved husband of 28 years, John Embrey, and first husband, Walter Trager; and siblings, Carl Stebelton, Dorothy Hartshorn, and two additional brothers.
In lieu of flowers, please send donations to the Licking County Humane Society, 825 Thornwood Dr SW, Heath, OH 43056 or to Hospice of Central Ohio, PO Box 430, Newark, OH 43058.
To sign an online guestbook, please visit www.brucker-kishlerfuneralhome.com.