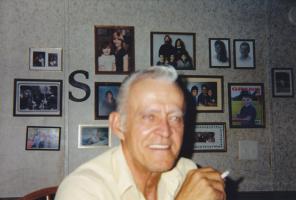 A funeral service for James E. Six will be held at 1pm on Friday, August 11, 2017 at Brucker Kishler Funeral Home, 985 N. 21st Street, Newark, OH 43055. Services will be officiated by Pastor John Schouten and burial will follow at Wilson Cemetery. Military honors will be provided by the Licking County Veterans Alliance. Family will greet friends on Thursday, August 10, 2017 from 5-8pm.
James, age 73, of Newark, passed away surrounded by his family on Tuesday, August 8, 2017 at his home. He was born on October 2, 1943 to the late John and Roberta (Fisk) Six in Logan, OH.
James proudly served his country as a member of the US Airforce during Vietnam. He was active in American Legion Post 85 and Sertoma, of St. Louisville. James also spent many years as a Little League baseball coach.
James is survived by his loving wife of nearly 55 years, Loretta (Cross) Six; son, Robert E. (Samantha) Six, of Newark; granddaughters, Lily and Sydney; siblings, Robert L. (Gloria) Six, of Buckeye Lake, and Ruth (Ron) Sinnot, of Logan; and sister-in-law, Bonnie Fisk.
In addition to his parents, James is preceded in death by his siblings, Jack Fisk, Mary Slone, and Carol Lees.
In lieu of flowers, donations may be sent to Hospice of Central Ohio, PO Box 430, Newark, OH 43058.
To sign an online guestbook, please visit www.brucker-kishlerfuneralhome.com.