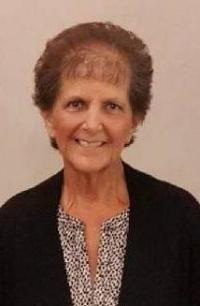 Frances E. "Sis" Wolfe
A funeral service for Frances E. "Sis" Wolfe, 64, of Johnstown, will be held at 11:00 a.m. Friday at Brucker and Kishler Funeral Home, with David Carpenter officiating. Burial will follow in Newark Memorial Gardens. Family will receive friends from 4 to 8 p.m. Thursday and one hour prior to the service on Friday, at the funeral home, 985 N. 21st St. Newark.
Sis passed away August 13, 2017, at her residence. She was born November 8, 1952, in Newark, to the late Homer E. and Frances Elenora (Wilson) Kelley.
Sis was a 1970 graduate of Newark High School and a member of the Church of God of Licking County. She worked in the café for Licking Memorial Hospital for five years. She was a beloved wife, mother, grandmother, and a child of God. She enjoyed singing praises to her Lord with her two nieces Tracy Neely and Tricia Queen. To know her was to love her.
She is survived by her husband Michael Wolfe; daughters, Kelli Wolfe of Johnstown, Valerie (Brock) Wilfong of Newark, and Whitney (Tommy) Reese of Alexandria; granddaughters, Adelaide, Paisleigh, and Oaklynne; brothers, Fred (Bev) Kelley, Robert (Bev) Kelley, John Kelley, and Richard (Jeannie) Kelley; sister, Marilyn (Mike) Fox, and numerous nieces, nephews, and cousins.
To sign an online guest book, please visit www.brucker-kishlerfuneralhome.com.