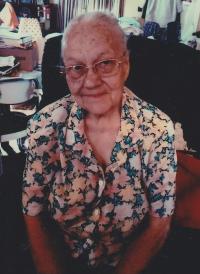 A funeral service for Lois Jane Peck will be held at 11am on Friday, September 22, 2017 at Brucker Kishler Funeral Home, 985 N. 21st Street, Newark, OH 43055, with Pastor Joe Grubbs officiating. Family will greet friends from 2-4pm and 6-8pm on Thursday, September 21, 2017 at the funeral home. Lois will be laid to rest at Newark Memorial Gardens.
Lois, age 82, of Newark, passed away on Saturday, September 16, 2017. She was born on August 3, 1935 to the late Fredrick and Edna (Guisinger) Rognon in Zanesville, OH.
Lois was a strong believer of her Apostolic faith. She was a Sunday school teacher, helped with children's ministries, and sang in the choir. Lois loved her family, and was always cooking or baking something to share with them.
Lois is survived by her sons, Steven (Joyce) Peck, David Peck, and Timothy Peck; grandchildren, Diana (Cody) Ragan, Michelle (Jason) Ziegler, Ryan Peck, and Tayden Peck; 5 great grandchildren; and sisters, Sally Sharkey and Delores Bennett.
In addition to her parents, Lois is preceded in death by her husband, Donald R. Peck.
In lieu of flowers, donations may be made to Brucker Kishler Funeral Home to help the family with funeral costs.
To sign an online guestbook, please visit www.brucker-kishlerfuneralhome.com.