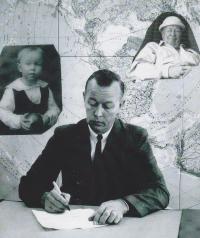 Earl T. Bodem, Jr.
Funeral Service for Earl T. Bodem, Jr. will be held at 10a.m. on Saturday, October 7, 2017 at Brucker Kishler Funeral Home, with son, Pastor Robert E. Bodem, officiating. Burial will follow at Wilson Cemetery, where the Licking County Veterans Alliance will provide military honors.
Friends and family may call 5-7 p.m. on Friday, at the funeral home, 985 N 21st Street in Newark.
Earl passed away on Thursday, September 21, 2017 at his home at Siesta Key, Sarasota, Florida. He was born October 23, 1920 in Dayton, Ohio, a son of the late Earl T. and Josephine (Hurtman) Bodem.
He graduated from Stivers High School, Dayton, Ohio and attended University of Dayton for a 4 year term. He worked at National Cash Register in Dayton for a few years and then became a Tool and Die Maker. He served 4 years in the Army Air Force as a senior machinist. He was first stationed at Hickam Field in Hawaii, then assigned to active duty at Camp Atterbury, Indiana and Sheppard Field until his discharge. He then returned to Dayton and began his 37 year Civil Service career at Wright Patterson Air Force Base. In the early and mid 50's he led a Nationwide search for a special location to specialize in the maintenance and testing of Inertial equipment. In 1958 he discovered this already built unused facility in Newark thus the beginning of Newark Air Force Base. He received a number of rewards while working at this facility, his proudest being the most prestigious "Meritorious Civilian Service". His final position prior to his retirement in 1979 was Director of Plans and Management. After his retirement he pounded a lot of nails helping build homes in Siesta Key, Sarasota, FL and Catawba Island, Port Clinton, Ohio. He had non-stop projects going up until the last few weeks of his life.
In his early years of life he was an inspiring athlete playing sand lot basketball and a fast pitch softball player for the "Brixey's Midgets". He loved dancing (especially jitterbug) and was very good at it. His favorite pastime was boating on Buckeye Lake, Lake Erie, and the canals of Siesta Key.
He is survived by his wife of 47 years, Shirley (Post) (Baumgartner), son Robert Earl (Paulette) Bodem of Arcadia, FL, step son James David (Patty) Baumgartner of Newark and step daughter Rebecca Jo Lloyd-Jones of Boynton Beach, FL., 9 grandchildren and 15 great-grandchildren.
He is preceded in death by both parents and his brother Robert Theodore Bodem.
In lieu of flowers, contributions may be made to Tidewell Hospice Philanthropy Department. 5955 Rand Blvd. Sarasota, FL 34238.
To sign an online guest book, please visit www.brucker-kishlerfuneralhome.com.