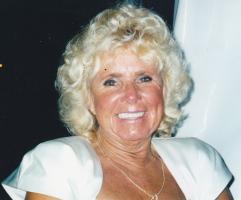 Peggy (Spring) Ankrum passed away on Tuesday, October 10, 2017 at her home, surrounded by her loving family.
She was born June 10, 1938 in Buffalo, OH to the late Albert and Elsie (Hall) Spring. Peggy was a graduate of Buffalo High School and cheerleader for the basketball teams for three years. She loved doing things with her family and annually attending Jamboree in the Hills, Nashville Country Music Fan Fair, and Buffalo Alumni Banquets.
Peggy is survived by her loving husband of 57 years, Bill Ankrum, whom she married on June 12, 1960 at Buffalo Methodist Church. She also leaves behind daughters, Sabrae (Randy) Davidson, Pamela (Doug) Hall; son, Kevin Ankrum; granddaughters, Melina (Willie) Holley, Chelsea (Steven) Davenport; one great granddaughter, Remi Davenport; sisters, Pat Cornett, Judy Crabtree, Linda Voorhies, and brothers, Dave Spring, and Bill Hall; as well as many nieces and nephews.
In addition to her parents, Peggy is preceded in death by her sisters, Nancy Phillips, Janet Rose, and brother, Jerry Spring.
The family would like give special thanks to her sister, Linda, Annita of Hospice, Dr. Petryk, and all her friends for all their care and compassion.
In lieu of flowers, donations may be sent to Hospice of Central Ohio, PO Box 480, Newark, OH 43058.
A funeral service will be held at 11am on Saturday, October 14, 2017 at Brucker Kishler Funeral Home, 985 N. 21st Street, Newark, OH 43055. Family will greet friends for one hour prior to the service and from 4-7pm on Friday, October 13, 2017, also at the funeral home. Peggy will be laid to rest at Cedar Hill Cemetery following the services.
To sign an online guestbook, please visit www.brucker-kishlerfuneralhome.com