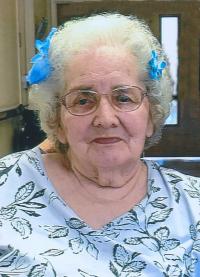 A Memorial Service for Edna Mae Owens will be held at 6pm, on Saturday, October 14, 2017, at the Crossroads Christian Church, 11784 Marne Road, Newark. Cory Campbell will officiate.
Edna, age 81, of Newark, passed away Tuesday, October 10, 2017, at the Price Road Health & Rehabilitation Center. She was born August 15, 1936, in Zanesville, a daughter of the late Ernest J. and Ethel Mae (Carlisle) Fouts.
Surviving are her daughters, Sandra Brockway, Mary Hood, Shelly (Brian) Brothers; sons Scott Brown, Timothy Brockway; grandchildren, James, Danny, Cowan, Abigail, Logan and Ryan; eight great-grandchildren; one sister, Mary Carney (Dennis) and one brother, Lawrence Fouts. She was preceded in death by one son, James Eugene Brockway;
her brother, James and two sisters, Marcella and Gladys.
Memorial contributions may be made to the A.S.P.C.A. or the Alzheimer's Association.
To sign an online guest book, please visit www.brucker-kishlerfuneralhome.com.