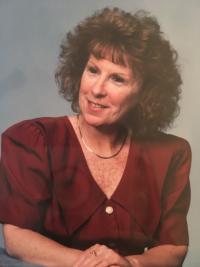 A funeral service for Gatha Faye Weber will be held at 1pm on Monday, November 27, 2017 at Brucker Kishler Funeral Home, 985 N. 21st Street, Newark, OH 43055. Service will be officiated by Pastor Rusty Fuller. Burial will follow the services at Fairmont Cemetery. Family will greet friends from 3-7pm on Sunday, November 26, 2017 at the funeral home.
Gatha, age 71, of Heath, passed away on Sunday, November 19, 2017. She was born on January 18, 1946 to the late Raymond and Freda (Lockard) Thorpe in Williamson, WV.
Gatha worked as a waitress for 35 years at Armando/Butch's Italian Restaurant. She was a very selfless and giving person. More than anything, she loved her family.
Gatha is survived by her loving husband of 54 years, Ralph Weber. She also leaves behind her children, Kimberly Weber, Terry Weber, and Shelley (Jeremy) Himes; grandchildren, Brandon (Sherri Davis) Perdue, Dustin (Tina) Weber, Chris Weber, Ashley (Kaz) Bailey, and Steven (Cortney) Dudley; great grandchildren, Kennedi, Lyla, Zoe, Millie Faye, Daejha, Amani, and Kidany; siblings, Brenda (Harry) Jeffery and Tim (Doneta) Thorpe. She also leaves behind many nieces, nephews, and cousins.
In addition to her parents, Gatha is preceded in death by her brothers, Danny, Bobby, Donny, and Ronnie Thorpe.
Donations can be made to a charity of your choice.
To sign an online guestbook, please go to www.brucker-kishlerfuneralhome.com.