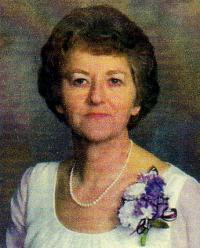 A funeral service for Donna A. (Stockberger) Scheff, age 93, of Newark, OH will be held at 12pm, on Saturday, December 9, 2017, at the Brucker-Kishler Funeral Home in Newark. Pastor Walter Bruah will be officiating. Inurnment will be at Bennington Chapel Cemetery at a later date. Family and friends may call from 11am until the 12pm service time at the funeral home, 985 N. 21st Street. A luncheon for all attending following the service will be held at the funeral home.
Mrs. Scheff passed away on Saturday, December 2, 2017, at the Arlington Care Center in Newark. She was born April 15, 1924, in Bennington Township, Licking County, Ohio, to the late William Raymond and Nellie M (Ashcraft) Stockberger. She is a 1942 graduate of Hartford High School, Croton, Ohio and later the Newark Business School. She retired from "White Westinghouse" and the "Newark Therapeutic Center" in Newark, Ohio.
Donna was a Licking County 4-H Member and Associate 4-H Club advisor in Licking County. She was a Knox County 4-H Club advisor for several years. Donna served the State of Ohio as a committee member for County Extension work. At the age of sixteen she was honored as "Ohio State Queen" at the National Dairy Show in Memphis, Tennessee. An avid traveler, Donna visited 23 countries and 49 states. Her helping hands were always extended to family, friends, neighbors and the community.
She was a charter member of the Middlebury Grange #192 in Knox County, a member since 1978 of the Auxiliary Order of Eagles #387, a member since 1974 of the Auxiliary Women of the Moose #964 in Newark, Ohio, a Charter member of the "Knights of the Road, Inc." and an organizing member of the Chapter of the "Sweet Adelines" of Knox County.
She was proceeded in death by her parents, brothers and sisters-in-law, Paul W. (Margaret) and Wayne R. (Lois) Stockberger; former sister-in-law, Leona Scheff Heslep; niece and nephews, Sue Christopher and Mark Snoey and Richard L. Stockberger.
Surviving are Gretchen and Richard L. Stultz and their son, Derrick S. Stultz; cousins, Linda (Stockberger) and Roger Collisson of Kirkland, Washington, Shirley Ashcraft and Robert A. (Carolyn) Gault; nieces, Carol (Bernard) Johnson, Pam (Brian) Kemmenoe, and Tonda Snoey, Bev Stockberger; nephews Allen D. (Deena) Stockberger, Val Christopher, and former husband, Linden E. Scheff.
In lieu of flowers, memorial contributions may be made to Central Christian Church, 587 Mt. Vernon Rd., Newark, Ohio 43055.
To sign an online guestbook, please visit www.brucker-kishlerfuneralhome.com.