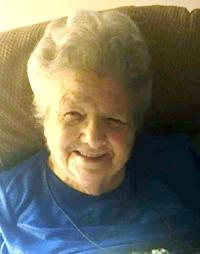 A Celebration of Life Service for Inez Marie Rine Stout Billman Barcus will be held at 11am, on Tuesday, January 9, 2018, at the Brucker-Kishler Funeral Home in Newark. Bishop T.L. Kirk will officiate. Burial will follow in Green Hill Cemetery in Johnstown. Family and friends may call from 4pm-8pm, on Monday, at the funeral home, 985 N. 21st Street.
Mrs. Barcus, age 89, of Newark, passed away Thursday, January 4, 2018, at the Newark Hills Health & Rehabilitation Center. She was born December 2, 1928, in Nashport, one of 12 children born to Dora and Mary Liddie Marie (Baker) Rine. She was a member of the Christian Life Center in Heath and had volunteered at Heritage Hall and worked on the newsletter. She had been a member of the Hanover T.O.P.S. group and an avid doll collector.
She is survived by her children, Justina (Paul) Wilson, Virgil (Nancy) Stout, Millie (Wayne) Young, Marsha (Dave) Colburn, Connie Durham, Janet (Chuck) McClary; step children Sandra (Charles) Dumrese and Ann (Richard) Dixon; 12 grandchildren; 19 great-grandchildren; three great-great-grandchildren; several step grandchildren and step great-grandchildren; her brothers and sisters, Paul (Charlotte) Rine, Beulah Blethen, Bertie (Gail) Hill, Dorothy Flowers, Louis "Buzz" (Betty) Rine; sister-in-law, Mary Rine; step daughter-in-law, Connie Barcus
and several nieces and nephews.
In addition to her parents, she was preceded in death by her husbands, Forrest Stout, Russell Billman and Irven Barcus, Sr.; her grandson, Aaron Colburn; her son-in-law Edward Durham; her sister Irene Morrison and brothers, Perry, Bob, Carl and John Rine, an infant brother, Raymond and step-son, Irven Barcus, Jr.
Memorial contributions may be made to Hospice of Central Ohio.
To sign an online guestbook, please visit www.brucker-kishlerfuneralhome.com.