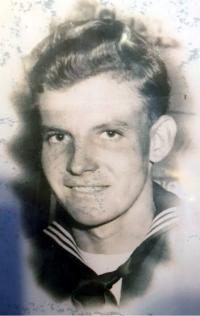 Everett Dale Willard, 91, left his family January 5, 2018, to prepare a new home for them. His loving wife, Jessie, of 71 years, was always at his side through his long journey.
Everett retired from Owens Corning Fiberglas after 33 years' service at the age of 55. He served in WWII, in the U.S. Navy. He had a great love for all animals. He enjoyed fishing, gardening, mowing grass, cutting wood and playing Euchar. He was a big Cleveland Indians fan, listening to every game on the radio. He enjoyed riding his golf cart down the pond to feed the fish and birds. Most of all he loved his family and was always ready to get together with friends and family to enjoy life.
He will be greatly missed by his wife, Jessie; his sons Randy Willard, Rory Willard; daughters Joy Kirkpatrick and Cindy Hunter; his grandchildren, Stacey, Jaime, Jessica, Trent, RD, Clint, Savannah and Tisha; his great-grandchildren, Ian, Haylee, Jayden, Dalton, Madyson, Konnor, Tanner, Hunter, Mellissa, Johnathan, Hope
and one on the way; in laws Louise Willard, Gene Kirkpatrick and Mark Hunter and Carol Willard (deceased) and many friends, nieces and nephews.
Memorial contributions may be made to the Licking County Aging Program, Hospice of Central Ohio or the Licking County Humane Society. The family would like to extend a special thanks to the Hospice staff for all of their loving care and consideration.
Friends may call from Noon until 2pm, on Wednesday, January 10, 2018, at the Brucker-Kishler Funeral Home, 985 N. 21st Street, in Newark. A funeral service will be held at 2pm, at the funeral home. Burial will follow in Hanover Cemtery.
To sign an online guestbook, please visit www.brucker-kishlerfuneralhome.com.