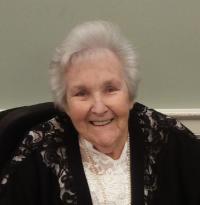 A funeral service for Agnes Orvilla Orr will be held at 10am on Tuesday, January 23, 2018 at Brucker Kishler Funeral Home, 985 N. 21st Street, Newark, OH 43055. Family will greet friends from 2-4pm and 6-8pm on Monday, January 22, 2018 at the funeral home. Burial services will be held privately.
Orvilla, age 85, of Newark, passed away on Friday, January 19, 2018 at the Selma Markowitz Center. She was born on January 12, 1933 to the late Orville and Anna (Nay) Hazen in Zanesville, OH.
Orvilla was a long time member of Christ United Methodist. She enjoyed scrap booking, sewing, and selling her crafts at local shows with her husband. Orvilla also liked to, travel, go camping and host holiday parties for her family and friends.
She is survived by her children, Gae (Stu) Cox of Thornville, Troy (Joan Mary) Orr of Newark, and Chirstina (Harry) Osborn of Newark; 8 grandchildren; 16 great grandchildren; and special friend and aid, Stephanie.
In addition to her parents, Orvilla is preceded in death by her husband of 53 years, Jack Orr; son, Christopher Orr; 3 sisters; and one grandson.
In lieu of flowers, donations may be made to Hospice of Central Ohio, PO Box 430, Newark, OH 43058.
To sign an online guestbook, please visit www.brucker-kishlerfuneralhome.com.