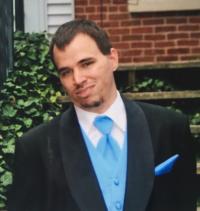 Jordan David Humphrey, age 34 of Newark, died Monday, January 22, after succumbing to injuries sustained in an automobile accident. Born on the third day of September in 1983, Jordan was the oldest of 8 sons, between both of his parents. While Jordan was faced with adversity throughout his life, he tried his hardest to never let that keep him from enjoying it as much as he possibly could. He often spent his time listening to rock music, playing Xbox, watching movies, playing with his nieces and nephews, going to church, and spending time with his brothers, also known as "The Brotherhood".
Throughout his life, Jordan was resilient. Things didn't come easy for him. Yet, his spirit always maintained. He was kind hearted, warm, and helpful; and while all of this is true, Jordan may have also been the most stubborn and strong willed person you ever had the pleasure of meeting. You may not have ever heard him speak your name, but you could always feel that you were close to his heart. Hugs and high fives were always something you could count on.
Jordan is survived by his mother and step-father, Sydney and Tracy Shepherd; his father and step-mother, Clay and Mala Humphrey; Maternal grandparents, Carol and Dave Fogle; Paternal grandparents, Mary Humphrey, Midge Shepherd, Alan (Kathy) Shepherd; Brothers Chase (Melissa), Cody (Samantha), Gavin, Garrett (Lissi), Calder, Joseph (Lauren), and Joshua (Kaitlin), his beloved nieces and nephews Zyler, Stella, Vada, and Cree, as well as many aunts, uncles, and cousins.
He was preceded in death by his paternal grandfather, Clayton Humphrey.
Visitation will be Friday from 4-8 PM at the Brucker- Kishler Funeral Home, 985 N. 21st St., Newark, where the funeral service will be Saturday at 11:00 AM With Pastor Josh Pennington officiating. Burial will follow the service in Hanover Cemetery.
To sign an online guestbook, please visit www.brucker-kishlerfuneralhome.com