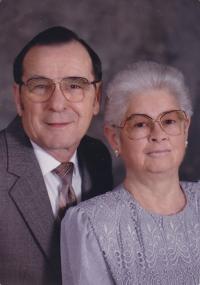 A funeral service for Delmer E. Brown, will be held at 11am on Monday, February 12, 2018 at Brucker Kishler Funeral Home, 985 N. 21st Street, Newark, OH 43055. Services will be officiated by Rev. Keith Sjöstrand and Rev. Robert Filkens. Burial will be held at Lutheran Cemetery following the funeral service, where the Licking County Veteran's Alliance will provided military honors. Family will greet friends from 2-6pm on Sunday at the funeral home.
On Wednesday, February 7, 2018, Heaven gained a hard working angel, Delmer passed away at the Selma Markowitz Center. He was born on March 10, 1920 to the late Elmer and Dela (Goff) Brown in Perry County.
Delmer is survived by his children, Guy (Nancy) Brown and Artistia Clark; step-son, C.E. (Nance) Davis; grandchildren, Todd Brown, Brian (Terri) Brown, Rusty (Machelle) Arnold, Lisa (Jay Parkinson) Arnold, Jay (Dawn) Clark, and Chuck (Mary) Davis; great grandchildren, Garrett Brown, Linsey Brown, Quay Arnold, Kylene (Seth) Rine, Jake Parkinson, Brock Parkinson, Garrett Clark, Amanda Davis, Matthew Davis; great-great granddaughter, Izabella; and sister, Louise Sons.
In addition to his parents, Delmer is preceded in death by his first wife, Claraedith Brown; second wife, Eva Brown; son-in-law, Roger Clark; brother, Rev. Denzil Brown; and 5 sisters, Irene, Inez, Iva, Ruby, and Ethel.
Delmer proudly served his country as a member of the US Army during World War II. He was also a cofounder of Brown's Transmission, where he worked until he retired in 1985. Delmer was a member of Christian Apostolic Church. He loved to travel and tell stories.
The family would like to give special thanks to the staff of Hospice of Central Ohio for all their care and compassion.
In lieu of flowers, donations may be sent to Hospice of Central Ohio, PO Box 430, Newark, OH 43058.
To sign an online guestbook, please visit www.brucker-kishlerfuneralhome.com.