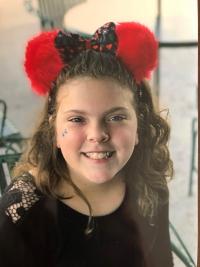 Gracie Danielle Dudgeon, 10, gained her wings, Wednesday, February 7, 2018 at her home. She was born September 1, 2007 in Newark, a daughter of Michael and Jennifer (Hartman) Dudgeon.
Gracie was a 5th grader at Stevenson Elementary School where she was a cheerleader for Heath Sertoma football team. She had a love for animals especially horses. Gracie had a heart that loved always and often. She loved her friends and family deeply.
She is survived by her parents, Michael and Jennifer Dudgeon; sister, Maddie "Moo" Dudgeon; maternal grandparents, Pat Hartman (Robin Dockus), Dana and Jaque Hartman; Paternal grandparents, Lucinda Fish, David and Linda Dudgeon; five uncles, Jeremy (Andi) Hartman, Jason (Mariah) Hartman, Cory (Ashton) Leckrone, Shane Farabee, and Dan (Jess) Hoover; two aunts, Nicole (Josh) Wilson and Jessica (Adam) Seymour; honorary aunt, Amber Wolfe; many cousins including Darby Hartman; and her best friend, Katie.
In lieu of flowers, memorial contributions may be made to the Gracie D. Dudgeon Memorial Fund at any Park National Bank to support a scholarship for a future Heath cheerleader.
Visitation will be Sunday from 2-6 PM at the Brucker- Kishler Funeral Home, 985 N. 21st St, Newark, where the funeral service will be Monday at 1:00 PM with Pastor Jennifer Ballinger officiating.
To sign on online guestbook, please visit www.brucker-kishlerfuneralhome.com