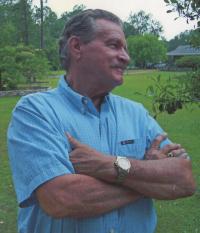 Gary J. Brown, 73, of Newark, Ohio, (formerly of Myrtle Beach, SC) decided to blow this popsicle stand on February 7, 2018. His beloved wife of 50 years, Carole, had been patiently waiting for him on the other side for almost three years and finally managed to lure him back home and into her loving arms with the assistance of Gary's friend, ESC of Powell, Ohio, to whom we are very grateful. Thanks to you, ESC, he is where and with whom he belongs, and he's finally at peace. You are a true gem.
Gary, who was born and raised in Port Clinton, Ohio, joined the US Air Force at the age of 17 and served for 25 years, retiring in Myrtle Beach, SC in 1985. Gary's military service took him to Maine, Pakistan, Illinois, Arizona, Thailand, Italy, South Carolina, and Vietnam, where he served as a medic during the war. He was also placed on special assignment at the Pentagon during his military career. After retiring from the Air Force, Gary went to work for the US Postal Service, from which he also retired.
Although Gary had a stellar career working for the federal government (complete with many medals, honors and accolades), he was just as accomplished in his private life, which he was most proud of. He graduated from Port Clinton High School in 1962 and was an Eagle Scout by the time he took off for the military. He then earned a black belt in Tae Kwon Do, became an expert marksman, was a Scout leader, and was a force to be reckoned with at bowling, billiards, poker and chess. He was also a whiz at crossword puzzles and magic tricks, and always had a hilarious joke locked and loaded.
Gary was also very involved in civic organizations, including the Masons and Shriners, and spent a lot of time fundraising and working for a variety of charitable causes in Horry County. Most recently, he began volunteering at Licking Memorial Hospital in Newark, Ohio.
More than anything, though, Gary treasured his family relationships, and he will be remembered as a loving, caring and kind father (to Jim and Gina), grandfather (Papa – to Cassidey, Prestan and Mackenzie), and brother (Bubba – to Terry, Vicki and Judy).
Visitation will be held from 3pm-4pm on Saturday, February 17th, 2018, at Brucker & Kishler Funeral Home, 985 N. 21st Street in Newark, with memorial services to follow at 4pm.
To sign an online guestbook, please visit www.brucker-kishlerfuneralhome.com