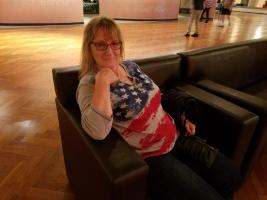 A funeral service for Joan A. Mayfield Dodrill will be held at 11am, on Tuesday, April 3, 2018, at the Brucker-Kishler Funeral Home. Burial will follow in Wilson Cemetery. Family and friends may call from 4pm-7pm, on Monday, at the funeral home, 985 N. 21st Street in Newark.
Joan, 66, of St. Louisville, passed away Friday, March 30, 2018, at the Selma Markowitz Hospice Center in Newark. She was born February 1, 1952, in Zanesville, a daughter of the late Melvin and Donna (Smith) Mayfield. She had worked as a loan processor at Park National Bank. She enjoyed planting flowers and mowing grass, but it was spending time with her family that meant the most to her.
Surviving are her husband, Kelly Dodrill, whom she married July 13, 2001; children Jason L. Mayfield, Nikki (Dodrill) Miller and her husband, Phil and their children, Delaney, Daylan, Davynn, Daxyn; Colt Dodrill and his wife, Jamie and their children, Harper and Rhys; and Cody Dodrill and his fiancé Casey; brothers, Jim Mayfield and Bill Mayfield and several nieces and nephews and her beloved dogs, Buddy and Bear.
In addition to her parents, she was preceded in death by her sister, Jane Hykes and her brother Richard Mayfield and a niece Tracy Bryant and nephew David Mayfield.
Memorial contributions may be made to Crossroads Baptist Church, 75 N. 6th Street in Newark.