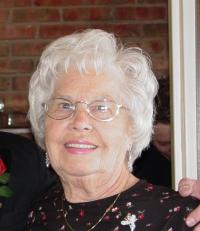 Norma Lee Clouston, 89, of Newark, died Saturday, March 31, 2018 at the Selma Markowitz Hospice Center. She was born July 17, 1928 in Zanesville to the late Elmer and Vada (Ross) McFarland.
Norma was a member of Neal Ave United Methodist Church. She was a member of a garden club, several card clubs and enjoyed traveling. She loved spending time with her grandchildren.
She is survived by son, Mark William (Reba) Clouston of Glenford, OH; daughter, Mardi Clouston (Steven) Rye of Delaware, Ohio, 5 grandchildren, Keith William (Heather) Clouston; Boe (Melissa) Rye, Kari Ann (Craig) Snyder, Lindsey Marie Clouston, and Tiffiny Rye (Rem) McCurdy; 2 great grandchildren, Oliver William Clouston and Lucy LeAnn Clouston; and one sister, Mildred Uphold of Zanesville.
In addition to her parents, she was preceded in death by her husband, Robert William "Bill" Clouston; two sisters, Lillian McDonald, and Jane Pollard; and one brother, Jim McFarland.
Visitation will be Wednesday from 2-4PM and 6-8PM at the Brucker- Kishler Funeral Home, 985 N. 21st St. Newark where the funeral service will be Thursday at 10:00 AM With Pastor Wally McLaughlin officiating. Burial will follow the service in Newark Memorial Gardens.
To sign an online guestbook, please visit www.brucker-kishlerfuneralhome.com