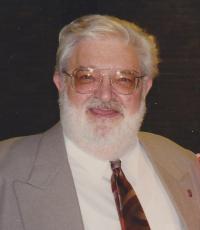 A funeral service for Raymond "Ray" E. Wagner will be held at 10am on Monday, April 9, 2018 at First Baptist Church 525 S 30th St, Heath, OH 43056. The service will be officiated by Pastor Randy Wagner and burial will follow at Newark Memorial Gardens. Family will greet friends from 2-5pm on Sunday, April 8, 2018 at Brucker Kishler Funeral Home, 985 N. 21st Street, Newark, OH 43055 and for one hour prior to the service at the church.
Ray, age 82, of Heath, passed away peacefully at his home on Wednesday, April 4, 2018. He was born November 9, 1935 in Shamokin, PA to the late Helene F. Jaworski and Raymond E. Wagner.
Ray graduated from high school in 1953 and enrolled in Prairie Bible College at Three Hills, Alberta, Canada, where he met his wife, Bernadean "Bernie" Black. They were married on July 27, 1956 and have three children, Randy (Merrilee) Wagner, Rachel Wagner, and Rhoda (Peter) Jameson. They have 5 grandchildren, Harmoni (Christopher) Grable, Zachary (Kristen) Jameson, Judah Wagner, Isaac (Alyssa) Jameson, and Nicole Jameson; 5 great grandchildren, Tressel, Andi, Brayden, Hailey, and Maddox; as well as many nieces, nephews, children of Boyd Black and other family members, in Pennsylvania and South Dakota.
Ray and Bernie loved the Lord and served Him as volunteer missionaries in Uganda, China, Mexico, and Gaza, where they taught many to read English as a second language. While serving overseas, they led several hundred people to the Lord. Ray also served with Baptist Builders at many Disaster Relief locations.
Ray taught in the Heath Schools and worked for the Licking County Board of Health for 27 years each. He and his wife started the Licking County School Employees Federal Credit Union in their home in 1966. It is now known as TrueCore. Ray was an active member of First Baptist Heath where he taught Sunday School. He will be greatly missed for his wisdom, prayers, and especially for his humor. Never without a joke, Ray loved to make people laugh.
In addition to his children and grandchildren, Ray is survived by his loving wife of 62 years, and a brother, Fred, of Philadelphia, PA. He is preceded in death by his parents, brother, Jack Lobos, and sister, Gene Raab.
In lieu of flowers, donations may be sent to First Baptist Heath.
To sign an online guestbook, please visit www.brucker-kishlerfuneralhome.com.