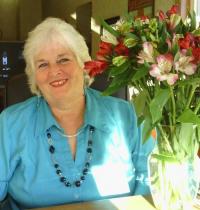 A memorial service for Pamela S. Shaw ,70, will be at 3:30 on Sunday, May 6, 2018 at the Utica United Methodist Church. Pamela died on April 6, 2018 at the Selma Markowitz Hospice Care Center. She was born on January 8, 1948 in Mt. Vernon, OH to the late Jack L. and Ellen M. (Shomaker) Quinif.
Pamela was a lifetime resident of Utica. Graduating in 1966 from Utica High School, Pam went to work at Pounds Florist in Newark. She not only had a 30+ year career in the floral industry in different shops, Pam accomplished many things, always showing great strength and determination. Pam was the Owner/Operator of the Dew Drop Inn Carryout, became a top seller at Quinif Realty, was a substitute teacher at the Licking County JVS, bought and sold gasoline memorabilia, managed and continuously renovated multiple rental properties, was a Longaberger branch leader, created wonderful baked goods for local farm markets and built her own business, Flowers by Pamela. But her favorite thing to do was be a mom and grandma. Her family was her life and at the heart of all she did. Pam will be remembered with great love and affection by her family, friends and neighbors.
She is survived by her husband, Robert M. Shaw, daughter, Jennifer (Rod) Earley, son, James (Jessica) Quinif, stepson Phillip (Deanne) Shaw all of Utica, stepson Rick Shaw of Mt. Vernon, stepdaughter Shelle (Craig) McFadden of Wichita Falls, TX., stepdaughter Debbie (Eddie) Ramsey of New Concord, two brothers, Jack (Sandi) Quinif of Madison, Oh. and Richard (Barb) Quinif of Merritt Island, Fl., fourteen grandchildren and four great grandchildren.
In lieu of flowers, memorial contributions may be made to Hospice of Central Ohio, P.O. Box 430, Newark, OH 43058