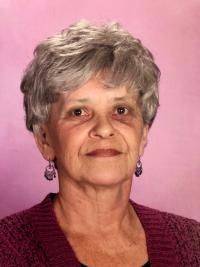 Sue Ellen Evans, 70, of Newark, died Monday, April 30, 2018 at Newark Care and Rehabilitation Center. She was born April 27, 1948 in Newark to the late Clyde and Geraldine (Hammond) Peck.
Sue worked at K-Mart as a sales clerk, but spent the majority of her working career as a teacher's aide at the Montessori Community School. She enjoyed trips to the casino and watching her grandson compete in sports where she never missed an event. She loved spending time with her family and cherished the time spent together.
She is survived by two sons, Brian (Lori) Peck of Newark and Kevin (Rachel Bremer) Byers of Dayton; three grandchildren, Bret Peck, Eros Byers, and Noble Byers; two brothers, Gerald Peck of Heath and Steven (Rose) Peck of Newark; one sister, Sandra (Joseph) Hart of Newark; and several nieces, nephews, and cousins.
In addition to her parents, she was preceded in death by her husband, Rick Evans.
Memorial contributions may be made in Sue's name to the Montessori Community School, 621 County Club Dr. Newark, OH 43055.
A graveside service for the family will be held at a later date.
To sign an online guestbook, please visit www.brucker-kishlerfuneralhome.com