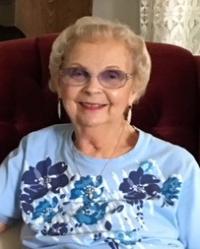 Bonnie Jean (McDonald) Gano
A funeral service for Bonnie Jean (McDonald) Gano, 91, of Newark, will be held at 1:00 p.m. Tuesday at Brucker and Kishler Funeral Home, with Pastor Todd Tracy officiating. Burial will follow in Cedar Hill Cemetery. Family will receive friends from 5 to 8 p.m. Monday at the funeral home, 985 N. 21st St. Newark.
Bonnie passed away surrounded by her family on May 10, 2018, at AlterCare Newark South. She was born April 27, 1927, in Newark, to the late Otto and Beatrice (Bowman) McDonald.
Bonnie was a homemaker who devoted her life taking care of her husband and three boys. She loved to bake and took pride in her house work. She looked after the elderly neighbors preparing meals for them. She lived for family get-togethers and loved spending time with her grandchildren and great-grandchildren. Bonnie was a member of Wright Memorial United Methodist Church.
She is survived by her three sons, Terry (Marcia) Gano of Newark, Timothy Gano of Newark, and Jeffrey (Diane) Gano of Columbus; seven grandchildren, Dawn (David) Pollay of Florida, Nathan Gano of Bexley, Heather (Rob) Whitmore of Powell, Justin (Nikkii) Gano of Newark, Jeremy Gano of New York, Brandon Gano of Columbus, and Courtney (Dave) Bailey of Westerville; eleven great-grandchildren; two sisters, Barbara Sue (Fritz) Wessinger of Heath and Brenda (Fred) Ellas of North Carolina; two brothers, Rodger (Vonda) McDonald of Newark and Richard (Paula) McDonald of Granville, numerous nieces and nephews, and by the daughter she never had, Martha Rowland.
In addition to her parents, she was preceded in death by her husband, Karl Francis Gano; son-in-law, Randy Rose; sisters, June Conrad, Alice Hughes, Mary Ann Ballengee; brothers, Robert, Ronald, and Ottie McDonald, and an infant son.
In lieu of flowers, contributions may be made to Hospice of Central Ohio, or charity of your choice.
To sign an online guest book, please visit www.brucker-kishlerfuneralhome.com.