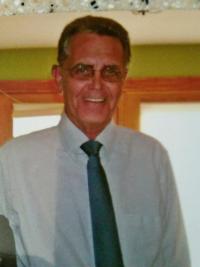 Carl F. Moore, age 83, of Port St. Lucie, FL and formerly of Newark, OH, passed away on June 15, 2018. Carl was born June 2, 1935 in Newark to the late John C. and Margaret M. (Dorsey) Moore.
He was an amazing man, extremely devoted to his family and loved by all who knew him. He raised 5 children in Granville, OH, where he was very involved in the Granville Rec League as a little league coach for many years, umpire and referee. He also participated in the Kiwanis Club and was a long-time member of the Elks. Carl had a passion for golf and for all animals, especially his rescue dog Dory. Carl was kind, loving and considerate to everyone he met. His friends and family will fondly remember his fun loving spirit and zest for life and he will be greatly missed by all.
Carl was a loving husband, father, grandfather and great-grandfather. Predeceased by his daughter Dianne, Carl is survived by his wife Alleda, his sons Gary (Marie) of Harvest, AL, Doug (Dianna) of Heath, OH, Geoffrey (Sherry) of Newark, OH and daughter Gail Moore of Palm Beach Gardens, FL. Grandchildren Jeremy (Jessica), Tosha, Cierra (Eric), Aaron, Jennifer (JJ), Danielle (Nate), Joshua and 7 Great-grandchildren will truly miss him.
A gathering of friends and family will be held Friday, July 13, 5-6:30, Brucker & Kishler Funeral Home, 985 N. 21st Street, Newark, OH, immediately followed by a celebration of life service at 6:30.
To sign an online guestbook, please visit www.brucker-kishlerfuneralhome.com