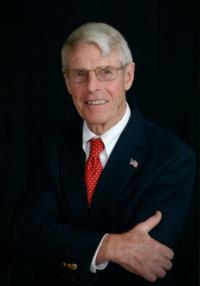 Joseph Roy Corby (Joe) passed away on June 28th, 2018, just 26 days before his 80th birthday. He was born on July 24, 1938, in Newark, Ohio, to Roy A. Corby and Ruth G. Corby. He graduated from Ohio University in Athens, Ohio, with a degree in Civil Engineering. He proudly served five years as an officer in the U.S. Army Corps of Engineers, reaching the rank of Captain.
In his career as a Civil Engineer he built roads in Nigeria, highway interchanges in New York, designed subway stations in Los Angeles, and many projects in between. He held professional engineer licenses in several states.
Joe and Ann lived for several years in New Cumberland, PA, where they raised their boys. Joe became involved in whatever community he lived—in Republican political groups, professional engineering associations, Parent Teacher organizations, school board member, Barbershop choruses, and many others. He was a licensed private pilot and flew his own Cessna 172. After 25 moves, they retired to New Bern, North Carolina where they have been happily residing for 14 years.
He was devoted to his wife of nearly 56 years, was bursting with pride for his two sons, and adored his five grandchildren. He loved his family first, his country, and his God.
He loved flying his airplane, riding his bike, singing Barbershop with friends, spending time with his friends, and traveling the world. He loved people and he loved life.
He is survived by his wife Ann; son David A. of Ashburn, VA; son Dodd J. and wife Candice of Plymouth, Mass; grandchildren Jack, Rex, and Ginger of Plymouth., and Lucy and Hadley of Ashburn; his brother David J. and wife Susan of Richmond, Mich.; his brothers and sisters-in-law; his nieces and nephews; his cousins; and hundreds of caring friends.
He is predeceased by his parents and his sister Mary Lynn Corby Owens.
For those considering memorial donations, the family suggests they be made to Centenary United Methodist Church, 309 New St., New Bern, NC 28563 or to EAA Chapter 1171, Flyin' Bears, Treasurer, 209 Teakwood Dr., New Bern, NC 28562
Funeral Arrangements: Visitation at Cotten Funeral Home, 2201 Neuse Blvd, New Bern: 6-8pm Saturday, June 30, 2018. Funeral Service at Centenary United Methodist Church, New St., New Bern: 2pm Sunday, July 1, 2018. Reception following the service.
Newark, Ohio Visitation at Brucker & Kishler Funeral Home, 21st St Newark OH, Tuesday, July 3, 2018 from 11AM – 1PM Burial at Newark Memorial Gardens, Newark OH, Tuesday, July 3, 2018 at 1 PM. Reception following at First United Methodist Church Newark OH.