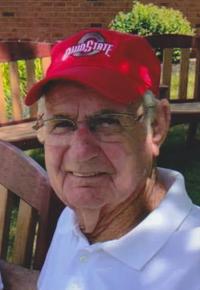 Donald A. Hunter
A funeral service for Donald A. Hunter, 87, of Newark, will be held at 10:00 a.m. Tuesday at Brucker and Kishler Funeral Home, with Rev. Scott Campbell officiating. Burial will follow in Wilson Cemetery. Family will receive friends from 4 to 7 p.m. Monday at the funeral home, 985 N. 21st St. Newark.
Donald passed away August 9, 2018, at the Arlington Care Center. He was born August 26, 1930, in Newark, to the late Ralph B. and Jessie (Jones) Hunter.
Donald was a member of First United Methodist Church, where he ushered for many years. He was also a member of Newark Masonic Lodge. He enjoyed traveling with his wife, bowling and golfing with his brothers, spending time with his grandchildren, and meticulously maintaining his yard.
He is survived by his daughters, Kathy (Jeffrey) McCoy of Newark and Diane (Thomas) Schmidt of Heath; grandchildren, Brandon Shannon of Newark and Nikole Schmidt of Heath; brothers, Thomas (Linda) Hunter of Newark, and several nieces and nephews.
In addition to his parents, he was preceded in death by his wife, Juanita Ann (Vermilion) Hunter; an infant daughter, Susan, and brothers, Lawrence "Bubba" Hunter and Ralph "Jack" Hunter.
To sign online guest book, please visit www.brucker-kishlerfuneralhome.com.