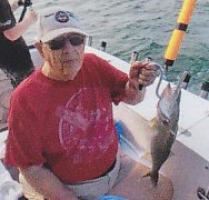 Robert Hardin, 87 of St. Louisville OH, passed away September 1, 2018 at the Selma
Markowitz Care Center with family by his side. Robert was born July 15, 1931 in Bellville, Ohio
to the late Elmer S. and Christina M. Zirkle Hardin. Robert married his late wife Carol J. Rine
on January 13, 1952, and they were married 50 years prior to her passing in 2002.
Robert is survived by his daughters Sharon K (Denny) Gray of Newark, Cheryl A (Chuck)
Brooks of St. Louisville, Sue Zeiher her, of Florida; three Grandchildren, Zachery Gray, Cassie Hardin, and Robert Zeiher II, and 4 Great Grandchildren and Brother and sister in law Larry (Bud) and Carolyn Rine.
Robert, commonly known as Bob around the community, was asked by trustees in the early 60's
for help and guidance in starting a fire department for those in the rural community. Bob along
with many other township residents started the Mary Ann Township Volunteer Fire Department.
He worked countless hours as their Fire Chief for over 10 years. He was also an EMT and an
EMT Instructor training other volunteers in order to help the community. He also served as a
township trustee for the betterment of the community. He was also a talented mechanic, working
on everything from outboard motors, cars, semi's and tractors, and fishing at Lake Erie with his
Grandson Zachery. He attended Bellville Schools and was a graduate of the Class of 1949.
Robert also served in the Air National Guard based out of Mansfield in the early 50's.
Bob retired from Rockwell International in Heath where he was a gauge inspector and was also
involved with the Rockwell Fire Brigade. After retirement, he was co-owner of the Flying
Horseman Trucking Co. with his late wife and drove cross country for20 years.
In addition to his wife and parents he was preceded in death by his brothers John S. Hardin and
Richard P. Hardin, sister-in-law Margie Sheets, Niece Jenny Rine, and many cousins, aunt, and
uncles.
We would like to thank the staff of Licking Memorial ICU, especially his Nurses Jodi and
Robert, and also the staff of the Selma Markowitz Care Center for the wonderful care given to
our father.
A funeral service will be held at 11am, on Thursday, September 6, 2018, at the Brucker-Kishler
Funeral Home in Newark. Pastor Cory Campbell will officiate. Burial follow in Newark Memorial
Gardens. Family and friends may call from 3:30pm-8pm, on Wednesday, at the funeral home,
985 N. 21st Street.
Memorial contributions may be made to the Mary Ann Township Volunteer Fire Department.
To sign an online guestbook, please visit www.brucker-kishlerfuneralhome.com