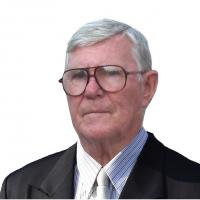 Rev. Robert L. Settlage, 86, of Newark went home to be with the Lord on Sunday, Sept. 2, 2018 while in hospice care at Licking Memorial Hospital. Robert was born on March 29, 1932 to Noah and Selma Settlage of New Knoxville, Ohio. He lived a life of loving service to God as the pastor of several churches in Wisconsin and Ohio.
His favorite hobby was gardening, and for years he and his grandson Daniel grew and sold tomatoes and other vegetables at farmer's markets. Bob was a huge OSU football and basketball fan and loved watching their games.
Bob is survived by his wife Peggy, children Lewis (Callie), Angie (Dave) Seltzer, Jim (Carrie), and Tom; stepsons Stephen (Christy) Smith, Ronald (Anne), Donald (Lori), Tim, and James. He is also survived by brother Lester (Helen) Settlage, sisters Marilee (Roger) Eversman, Grace Roediger, Joyce (Allan) Smith. He was preceded in death by his first wife, Elinor Boeke, his second wife, Wanda Faye Lee, sister Leah Kruse and her husband Lester, brother-in-law Gene Roediger, stepsister Lois Yinger and her husband Ronald, and stepdaughter Renee South.
Bob will also be fondly remembered by his numerous grandchildren, great-grandchildren, extended family, and dear friends including his neighbor Beverly Nixon who has been a great help to Bob and Peggy.
A memorial service and celebration of his life will be held on Saturday, Sept. 8th at 2:00 p.m. at Plymouth Church, 55 N. 4th St., Newark, Ohio, 43055, with calling hours starting at noon. In lieu of flowers, memorial gifts may be made to Plymouth Church, where Rev. Settlage served as pastor and on several of their boards for many years.