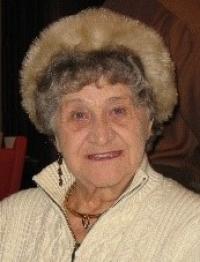 Erra Bays was our wonderful mother, aunt, grandmother, and great grandmother. She now knows the mysteries of life and is with her Lord in Heaven; we are going to miss her terribly here on earth. She passed away at The Chapel Grove Inn, surrounded by loving family on January 11, 2019 at the age of 93.
She was born on May 19, 1925 in Greenup, Kentucky to Leslie and Pearl Stephenson, but had lived in Newark since 1960, having spent many years as an Army wife and living in such varied locations as Paris, France and Taipei, Taiwan, as well as other bases in the United States. She worked at Western Electric and retired from Newark Air Force Base in 1988. Her greatest joy came from her faith and doing for others, and she cherished her family and friendships.
She is survived by her children, Pamela Froelich (Dave) of Newark and Penny Trexel (Kent) of Charlottesville, Virginia, as well as grandchildren Derek (Katie) Froelich of Alexandria, Kentucky, Brian Trexel of Altoona, Wisconsin, Jeffrey (Katherine) Trexel of Fredericksburg, Virginia and Erik Trexel of Portland, Oregon, grandchildren Morgan Froelich of Cincinnati, Kyle, Grady and Sarah Houston of Alexandria, Kentucky and Anna and William Trexel of Fredericksburg, Virginia. She was preceded in death by an infant son in 1962, her husband, Kenneth, in 1974, her grandson, Daron, in 2014, brother Ed Stephenson and her sister Opal Bowling.
At her request, there will be no calling hours. There will be a graveside service at Newark Memorial Gardens at 2pm, on Tuesday, January 15, 2019, followed by a celebration of her life at the home of Dave and Pam Froelich.
The family would like to express their appreciation to the staff of Chapel Grove Inn and Hospice of Central Ohio for the loving care they provided. Please, no flowers. In lieu of flowers, the family suggests contribution to the charity of the donor's choice or to Hospice of Central Ohio.
Online condolences may be sent via www.brucker-kishlerfuneralhome.com.