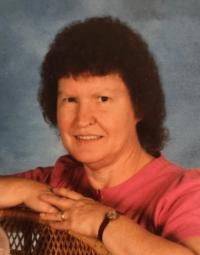 Ella Mae Decker, 79, of Newark, passed away January 31, 2019 at home surrounded by her family after a struggle with cancer. She was born in McArthur, Ohio to the late Harold and Lyda (Williams) Dusenbury.
Ella worked at Holophane for many years. She was a member of the Bible Baptist Church. She loved gospel and country music, and playing Euchre and Scrabble. She was devoted to her family.
She is survived by five children, Tony Decker, John Decker, Lynn Corsi, Kim Decker, and Rhonda House; one daughter-in-law, Connie Decker; seven grandchildren, Travis, Jesse, Angel, Marty Gene, Dusty, Matthew, and Timm; one great grandchild, Joshua; one sister, Frances "Sis" Ohde of Newark; four brothers, Athel "Chub" (Nancy) Dusenbury of Arizona, Larry "Mike" Dusenbury, Donald Dusenbury, and Gilbert (Carolyn) Dusenbury all of Newark.
In addition to her parents, she was preceded in death by her husband, Gene Decker; one son, Marty Decker; sister and brothers, Judy Dalzell, Frank Sessor, Robert "Bob" Dusenbury, Wayne Dusenbury, Richard "Dick" Dusenbury, Louis Dusenbury, Ronald Dusenbury, and Ralph Dusenbury.
The family would like to extend a special thank you to her sister, "Sis" and good friend, Joyce Nyhart for all of their help, love, and support during mom's illness. Also, thank you to Pastor Paul Reimer and Hospice of Central Ohio.
Visitation will be Sunday from 2-5 PM at the Brucker and Kishler Funeral Home, 985 N. 21st St. Newark, where the funeral service will be Monday at 11:00 AM with Pastor Paul Reimer officiating. A private graveside service will be held at Newark Memorial Gardens.
To sign an online guestbook, please visit www.brucker-kishlerfuneralhome.com