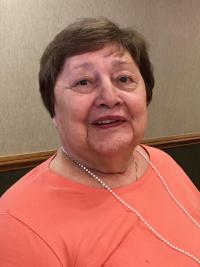 Magda C. Bujdoso, 82, of Newark, OH, formerly of Lisbon, Ohio passed away peacefully Tuesday afternoon, February 19, 2019 at Sharon Brooke, Assisted Living Residence in Newark, Ohio.
Magda Bujdoso, born Magda Clara Mikloshi in Nyíregyháza, Hungary on April 28, 1936, a daughter of Jozsef and Jolan Mikloshi. She and her sister, Marika, grew up in a loving family but they did experience World War II in Hungary and Czechoslovakia. After the war when Hungary was under the control of the Soviet Union, Magda showed an aptitude for sports and she was sent for athletic training and to study business accounting at the state school.
From ages 13 thru 17, Magda was an international class track athlete for Hungary; competing and winning numerous awards as an intermediate distance runner, hurdler and high jumper; she was recognized throughout Hungary and often highlighted on newsreels of the time.
Magda was married to Dr. Laszlo Bujdoso, MD February 1954 in Nyíregyháza, Hungary. One year later, in January 1955, Magda gave birth to a daughter, Katalin and in July 1956 to a son, Laszlo.
After the Hungarian Revolution in January 1957, Magda, Dr. Bujdoso, their two children and Magda's mother-in-law, Karoline, left their families, home and belongings to escape communism. They crossed the Hungarian boarder and escaped to Austria and freedom. The family lived in a refugee camp outside Vienna Austria until they received sponsorship for immigration to the United States in late 1957.
The family arrived in New Jersey early 1958 and Magda, now only age 22, worked numerous factory jobs (opting for men's harder but higher paying jobs whenever possible) to help provide for her family, while Dr. Bujdoso redid his medical internship and residency, along with learning a new language, a new country and raising a family.
In March 1965, Magda gave birth to another son, Paul. The family then relocated to Lisbon Ohio where Dr. Bujdoso joined a private practice with two other doctors. Magda took on the renovation of an 1830 mansion that had been uninhabited for many years. It took two years to complete the renovation and fill the house with antiques and create their new family home, providing many years of special memories. This home is now listed on the National Registration of historic homes. During these years in Lisbon, Magda raised their three children, participated in an adult volleyball league, was President of the Woman Medical Auxiliary, helped coach the high school Men's Track team, and enjoyed traveling the world with her husband, including several trips back to Hungary. Magda loved to cook and was known by her friends and family for many favorite recipes and special meals.
Magda and Dr. Laszlo Bujdoso were married 56 years, and lived in Lisbon, Ohio until Laszlo died in
August 2010. Magda moved to Newark, to be near her son Paul and his family, in November 2010.
Magda is survived and will be dearly missed by her daughter, Katalin (Jon) Wolff of Crested Butte, CO; sons, Laszlo (Lauren) Bujdoso of Weaverville, NC and Paul (Christine) Bujdoso of Newark, OH; her eight grand children and four great grand children who all know Magda as Mamama; and her sister, Marika Farkas, 88 in Hungary, along with her nephews, family and friends around the world.
A memorial service will be held at a later date in Lisbon, OH.
To sign an online guestbook, please visit www.brucker-kishlerfuneralhome.com