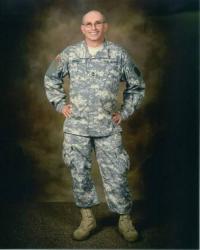 Jimmy Clay Berry
A military service for Jimmy Clay Berry, 60, of Jacksonville, FL, will be held on Friday April 26, 2019, at 5:30 p.m., at Brucker and Kishler Funeral Home, where Military Honors will be conducted by the Licking County Veterans Alliance. Family will receive friends from 4 to 6 p.m. on Friday, at the funeral home, 985 N. 21st St. Newark. Following the service a potluck will be held at the American Legion Post #85.
Jimmy Clay Berry at the age of 60 has lost his short battle with cancer. He passed in the comfort of McGraw Hospice of Jacksonville, Florida on April 7, 2019. He was born in Newark, Ohio on April 1, 1959.
SFC Jimmy C Berry has been a proud veteran since 1980. He served his country with more than 36 years with the OARNG and received many certificates and awards. He deployed with the 371ST in support of Operation Iraqi Freedom in 2008. SFC Berry was employed with the USPFO for over 26 years. He retired as a truck driver in 2016 along with an honorable discharge from ARNGUS. His retirement led him to the sunshine state where he continued to be a lifetime member of The Veterans of Foreign Wars (VFW), The American Legion Post 283 Jacksonville, FL and the Fraternal Order of Eagles in Newark, OH.
Jimmy has always been a fan of the Ohio State Football Team. He also enjoyed playing pool and shooting darts with leagues and friends acquiring many trophies and plaques. His biggest fans were his grandchildren. Married to his high school sweetheart for over 40 years sharing his love for his fur babies.
He was proceeded in death by his father Roger F Berry 1988, mother Mary K Huntsman 1992, step-father Charles L. Smith 1993 and one brother Roger Ray Berry 2003. He is survived by his wife Anna M Ford Berry of Jacksonville, FL; 3 daughters, Sherry A. Meade of Barnesville, OH; Christy M. Berry and Cathy A. Berry from his hometown of Newark, OH. Five grandsons, Michael, Robby, Clayton, Garrett and Gabriel. Three granddaughters, Kayla, Amber and Makenzie. One sister MK Cathy Berry a niece DJ Berry and sister-in-law Debbie Left of Atlantic Beach, FL. Two brothers Laverne Berry of Newark, OH and Charles Smith of Fort Lauderdale, FL. and several nieces, nephews, cousins and in-laws.
To sign an online guest book, please visit www.brucker-kishlerfuneralhome.com.