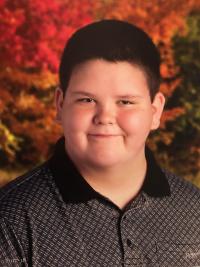 Trenton Erwin Bohlen, 13, of West Jefferson formerly of Newark, died Sunday, April 14, 2019 at Nationwide Children's Hospital. He was born April 12, 2006 in Newark to Jeffrey Bohlen and Tammy Sharrock.
He is survived by his mother and step father, Tammyjo Sharrock and Andy Clark,; father and step mother, Jeff Bohlen and Brandi Bateman; three brothers, Tyler Bohlen, Caleb Walton, and Drew Hysell; two sisters, Brea Jones (Nick) and Faith Clark; cousin, Luis Sharrock; and grandparents, Roger and Sue Sharrock, Bonnie Sharrock and Roger Kisamore; aunts and uncles, Donna Sharrock, Roger Sharrock (Kaylyn), Grace Sharrock, Vera Sharrock; Tasha Hickman (Thomas), Katie Sharrock (Steve Parr), and Amy Bohlen; and many cousins and friends.
He was preceded in death by sister, Heaven Stanley; and grandparents, Fred Vanblarcume and Marsha L. Kisamore.
Visitation will be Monday from 6-8 PM at the Brucker and Kishler Funeral Home, 985 N. 21st St. Newark, where the funeral service will be Tuesday at 11:00 AM with Pastor Dan Scarberry officiating. Burial will follow the service in Newark Memorial Gardens.
To sign an online guestbook, please visit www.brucker-kishlerfuneralhome.com