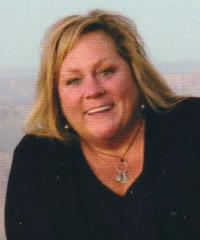 Trisha Lynette Simmons, 49, passed peacefully at her home on Saturday April 20, 2019, surrounded by her loving family. She was a woman of faith who loved the Lord and all of His creation. She was born April 19, 1970, in Mount Vernon, a daughter of Timothy (Sandy) Veatch and Nola I. (Scoles) Veatch.
A Celebration of Life service for Trisha will be held at 11am, on Friday, April 26, 2019, at the Brucker-Kishler Funeral Home in Newark. Life-long friend David Fogle will officiate. Family and friends may call from 5pm-9pm, on Thursday, at the funeral home, 985 N. 21st Street.
All who knew Trisha were aware of her charismatic personality that could light up a room and make you laugh because she was so full of life. She loved her family dearly, her animals and "sunrises, sunsets and sandy beaches". She earned a Bachelor of Science in Nursing and worked at Genesis Hospital in Zanesville in the Cardiac and Critical Care units.
Left to cherish her memory are her husband, Doug Simmons, whom she married August 3, 1990; her mother Nola and father Timothy; her children Tanner Simmons and MacKenzie Simmons; her sister Kimberly (Brian) Simmons; nephew Taylor Simmons; nieces Caitlyn Simmons and Zeaven Veatch; several great nieces and nephews; sisters-in-law Joey Lynn Simmons and Tammy Stahl and mother-in-law Sharon White.
She was preceded in death by grandparents Chaney and Ruth Veatch and Royal and Irene Scoles; father and mother-in-law, Gerald and Sandy Simmons and brother Shane Veatch.
Memorial contributions may be made to your local animal or humane society or Genesis Hospice, 713 Forest Avenue, Zanesville, Ohio 43701.