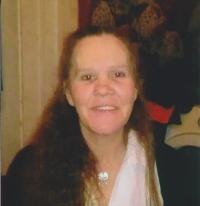 Mitzie Louise Smith, age 55, of Newark, passed away on Friday, May 31, 2019 at her home, surrounded by family and friends. She was born on November 19, 1963 to Donald and Amy (nee Hottinger) Smith.
A memorial service will be held at 3pm on Sunday, June 2, 2019 at Brucker Kishler Funeral Home, 985 N. 21st Street, Newark, OH 43055. Family will greet friends from 1-3pm prior to the service at the funeral home.
Mitzie was a long-time member of Christian Life Center and was strong in her faith. In her free time, she enjoyed riding Harleys, playing pool, and being a rebel raiser. She was a good friend to everyone she met and will be sorely missed.
Mitzie is survived by her mother; children, Benjamin Haynes III, Hallie (Ryan Marchman) Clapper, and Johnna (CJ Synder) Clapper; several grandchildren; siblings, Carl Smith, Laura Kelley, Mary Woody; and best friend of 50+ years, Ronda Freeman.
Mitzie is preceded in death by her father, daughter, Jamie Haynes, and two husbands, Benjamin F. Haynes II and Joseph K. Bailey.
In lieu of flowers, donations in Mitzie's memory can be made to the Licking County Animal Shelter, 544 Dog Leg Rd, Newark, OH 43055.
To sign an online guestbook, please visit ww.brucker-kishlerfuneralhome.com.