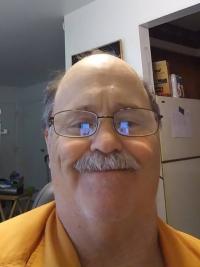 Michael Ralph Diemer, 61, of Newark, died Wednesday, July 17, 2019 at Newark Care and Rehab. He was born October 11, 1957 in Vacaville, CA to Ralph and Carol Diemer.
Mike served in the U.S. Navy. He was a devout Christian and enjoyed playing BINGO and watching TV. He loved the staff at Newark Care and Rehab and appreciated all the help they provided him with.
He is survived by children, Michael Ralph Diemer II of Fredericktown, Curtis Vallee Diemer (Heather) of Newark, and Rachel Elaine Smith (Rickey) of Newark; grandchildren, Gracie, Ella, Suzanna, Bentley, Olive, Ava, Treya, Harley, and Wade; mother, Carol Elaine Diemer; sister, Diana Diemer; and Malynda Gamble the mother of his children.
He was preceded in death by his father, Ralph; and his dog, Rex.
Private services will be held at a later date.
To sign an online guestbook, please visit www.brucker-kishlerfuneralhome.com
Dear God: I'm not okay, I'm not myself, I'm drained. Please calm my mind, heal my heart and take my worries away.